Skateboard Trucks
While it seems like most people spend a lot of time talking about the pop of the different deck brands, what you can do on a skateboard really is about the trucks. The hieght, strength, and geometric design of a truck determines what you will be able to do easier or harder on your skateboard.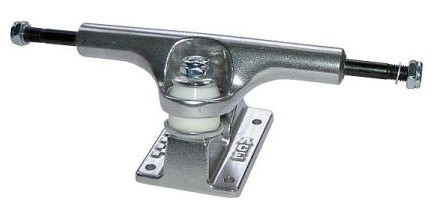 The height of a truck varies so you really want to pay attention to that based on what you want to do. If you want to do a lot of street skating and flip tricks then you want low trucks because they are lower to the ground and give your skateboard better stability. On the other hand, if you want to air it out on halfpipes and vert walls then you will probably want high trucks so you can use bigger wheels to get more speed.

The width of a truck needs to match the width of your deck. This chart gives you the match that you should use:
| | |
| --- | --- |
| Deck Width | Truck width should be |
| 7.5 inches | 4.75 inches |
| 7.5 to 7.75 inches | 5.0 inches |
| 7.75 to 8.125 inches | 5.25 inches |
| 8.25 inches and up | 5.25 inches or superwide |
The other thing to think about is the weight and strength of the trucks. The lighter the truck is the easier it is going to be to get air. But if you do a lot of grinding then you are going to want stronger trucks that can take a beating.

Bushings

Inside the trucks are the bushings that look like rubber donuts. These cushion the trucks when a skateboarder turns. The big thing about these is how soft or stiff they are. Softer bushings make for easier turns while stiffer bushings make for a more stable ride. The only reason anybody would really want to use softer bushins if if they are going to be doing a lot of carving out lines.

Beginners should use stiff bushings, which will break in over time. If you are an experienced skateboarder then medium bushings should work out for you just fine.

Riser

The riser works as a cushion between the trucks and the deck which helps keep the deck from cracking (really annoying). They also help keep the wheels and deck apart on hard turns, which could lead to the wheels locking up which is a really bad thing unless you like taking headers.
Next: Wheels